Today thirteen botsoc members and two from the Port Waikato Beach Care group gathered at the wild west coast beach of Port Waikato to botanize the dunes at the mouth of the Waikato River. The day began with a 40 minute walk along the beach to the end of the spit where we stopped only to peruse an old dead seal. We started at the far end as the dunes are younger and have few exotic species. Catherine Beard, the trip leader, gave us a rundown on the amazingly hardy native sand grass, spinifex (Spinifex sericeus) which dominated this end of the dunes. Tauhinu (Ozothamnus leptophyllus), sand wind grass (Lachnagrostis billardierei subsp. billardierei) and knobby clubrush (Ficinia nodosa) were also present amongst the spinifex dunes.
During lunch, Karen Opie from Port Waikato Beach Care filled us in on the birds that frequent the dunes and the work they have been doing to protect them. One of the most exciting recent events for them was a visit from several fairy tern whose current population is only c. 40 birds in New Zealand.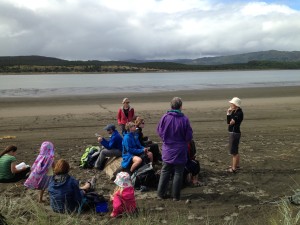 In the afternoon we headed towards some of the most mobile dunes where there were several populations of pingao, classified as At Risk-Declining on the most recent NZ threatened plant list.
The day ended with a walk back through the dune slacks, and a viewing of the Port Waikato Beach Care restoration planting. Thanks to Catherine and Karen for a great day out.
Paula Reeves